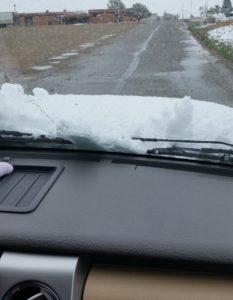 Ice Station Ely.
So over night the storm we raced ahead of, caught us in Ely. About midnight heavy sleet pelted our hotel. By 6 am wet snow was falling. Snow continued until about 9 am. My truck was covered in snow.
We hit the road about 8:30 back 50 to Eureka and then up 278 to Carlin. Not sure why I thought i would be able to operate on the 278 Eureka/Elko border. That was a canyon with limited North/South opening and several hundred foot up on the east just a couple of hundred feet away and no shoulder. Takeoff was probably 60°… not good.
Eureka/Elko line on 80 is just viable. The Lander/Humboldt line is good right at the sign. Over in Pershing the rest stop at the 158 exit is the best bet.
So general plan for May 7 is confirmed. Longest drive is the one to Carlin at about 4 hours. The rest are about 1 hour each. Now for the great news. I got a volunteer driver: KI6HFS (Vivian my YL). So even during the drives I'll be able to get a few more Q's in the log. Might even get her to operate for the 3db bonus.